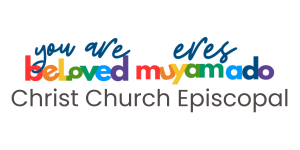 "Whoever you are, God seeks relationship with you. Peace is within reach. Healing is within reach. Love is within reach. Don't be afraid to bring your questions, heartaches, doubts and joys. It's a great time to be part of God's church."   —Bishop Rob Wright (Episcopal Diocese of Atlanta)
As Episcopalians, we believe in a loving, liberating, and life-giving God.
We believe in spreading the gospel of Christ by:
     – gathering in communion to worship, learn from the scriptures, and love & support one another;
     – serving the poor and vulnerable; and
     – showing honor and respect to all people, as did Christ.
We believe that no matter what you have been told, God loves you — no exceptions.  To that end, we offer an environment of inclusion, aspiring to tell and exemplify God's love for every human being.